Water Feature Installation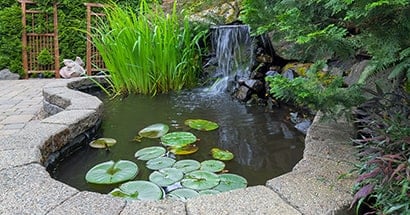 Not everyone in the Raleigh and Wilmington areas can live on a lake or by the beach. But there is still something about relaxing by a body of water after work that allows a person to de-stress from their day.
As North Carolina's leader in water feature installation, Barefoot Lawn Care is an expert in adding water features to a property to make this priceless addition available to anyone. Whether you want a pond, waterfall, cascade, or fountain, we can be with you every step of the way.
Design
Each property is different, as is each customer. Irrigation specialists work with our design team to ensure each piece is not only beautiful but that it is properly designed to the contours of the landscape. We will work with you until we come up with a water feature design you're happy with.
Construction
Once we have a design, our team is fully qualified to install the pumps, foundations, irrigation, and filters that will bring this project to life. Barefoot Lawn Care has decades of experience installing water features in the Triangle area and would love yours to be our next.
Maintenance
After the fountain, pond, or other water feature is in place, there is often maintenance to keep it fully functioning and looking great. We can skim the water, clean and repair filters, do chemical treatments, and otherwise maintain the feature for years to come.