Why Choose Barefoot Lawn Care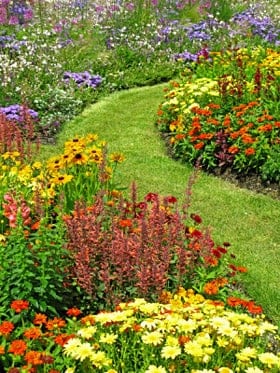 Why choose us? At Barefoot Lawn Care, we are committed to giving you quality Raleigh, NC home and commercial landscaping and lawn maintenance services at a competitive price. We want to help you "wow" everyone with a great-looking landscape at a price that suits your budget.
How do we do that? In place of maintenance contracts, we offer service agreements that put our North Carolina clients' needs first. It's just one example of the great service you can expect from the landscaping contractors the Triangle relies on.
Customized Service Agreements by Barefoot Lawn Care
We offer service agreements instead of yearly maintenance contracts, paired with optional, additional services to meet all of your needs. What are the benefits?
A yearly outline of expected services and their costs lets you know what to expect.
Add on optional services to tailor the service agreement to your needs.
No cancellation fees or hidden costs. There are no fees associated with breaking an agreement.
We bill as we complete the work, so you only pay for what you've already gotten.
We have long implemented and successfully managed our customers' needs through this process, and feel our customized lawn care programs provide you with the best value and convenience possible.
We Put Our North Carolina Clients First
Barefoot Lawn Care values our relationships with our clients. We like to say that once you try out our services, you'll never go back! That's because we work hard to make sure our lawn care clients are satisfied and get their money's worth. Some of the great service experiences you can expect include:
A service agreement suited specifically to your needs. Personal attention and courteous service with respect to you, your time and your property.
Dependable team of contractors who are always punctual and on time.
Working well within time constraints and completing the job on time.
An attractive lawn and exterior that will draw in visitors and make them feel welcome.
Free initial consultation and price quote on our landscaping services.
Our Commitment to a Clean & Safe Work Site
At Barefoot Lawn Care, we always treat our clients and their families, Raleigh commercial property or NC homes with the utmost respect. In all of our yard maintenance of landscaping jobs, we make clients' needs our priority by keeping our work site as neat and safe as possible.
For projects that will take more than a day to complete, we put our tools in a safe place and store construction materials out of the way. We try not to leave a mess for clients to come home to and have to work around, whenever possible. We take the client's specific needs into consideration, securing potential hazards (such as holes or tools) to keep their customers, pets, or children safe.
Whether a project takes a few hours or a few days to complete, the Barefoot NC landscaping team always leaves a property looking immaculate. We make sure that all dirt, debris or leftover materials are completely cleaned up. The only way our clients can even tell we've been there is a freshly manicured, maintained yard or a newly-installed landscape!
Call Barefoot Lawn Care: The Best in Raleigh, NC Lawn Care & Landscaping
We take pride in our work so you can be proud of your NC business or home. We're committed to giving our customers quality work and ensuring they are completely satisfied with our Raleigh, NC lawn care and landscaping services. Call us today at (919) 934-3554 to get a free quote and discuss the difference Barefoot Lawn Care could make for you.
Barefoot Lawn Care is based out of Smithfield, NC and is proud to serve surrounding areas, including Raleigh, Cary, Apex, Fuquay Varina, Garner, Wake Forest, Knightdale, Wendell, Clayton, Smithfield, Selma, Pine Level, Princeton, Goldsboro, Four Oaks, Benson, Dunn, Coats, & Buies Creek, NC.