Tree & Shrub Maintenance is Important Too!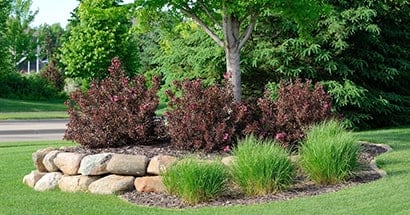 Barefoot Lawn Care has certified plant professionals that know how to treat these trees and shrubs according to their specific needs. Our program will provide essential nutrients to keep your trees and shrubs healthy and beautiful. Many companies will only offer nutrient, insect and disease management while our program includes those services but also includes weed control in your landscape areas. Our trained horticulture specialists will evaluate your plants for active pests during each visit and will treat affected plants to prevent further damage.
We highly recommend a plant soil test as it will provide key information about the soil where your plants and trees are growing.
We offer other beneficial services too such as:
Sedge Control (Yellow and Purple Nutsedge, Green Kyllinga)
Bagworm spraying
Pruning
Deep-Root Feeding
Mulch/Pine Straw
Trimming and Pruning
There are many reasons to trim and prune your plants. If the crown of a tree is too crowded, it is in more danger of damage during storms. Young plants often need to be pruned so as to allow them to grow with a strong, stable foundation. Dead limbs often need to be removed, as well, especially if they overhang a house, driveway or an area children play.
Environmentally Conscious
Barefoot Lawn Care only uses the highest quality treatments and fertilizers that will be safe for you, your family, your customers and the environment.
Tree & Shrub FAQs
When should you cut back (prune) trees and shrubs?
Late winter through early spring is often the best time to trim or prune trees and shrubs. However, the ideal time for pruning can vary depending on whether you're working with evergreen or deciduous trees and shrubs. Oak Trees, for example, should be cut back between December and February, while evergreen shrubs can benefit from some light pruning during summer months.
When should you fertilize trees and shrubs?
The best time to fertilize trees and shrubs is in the fall, September through October, once after they have entered dormancy. Another good time of year to fertilize is in early spring, between March and the end of April. Fertilizing in mid-to-late summer is not recommended, as this can result in a late bloom.
How do you remove moss from trees and shrubs?
Moss, lichens and algae tend to grow on older trees and thrive in moist areas that receive little light. While moss is not typically harmful to your trees, it can simply be removed by hand (with some hard work) or with the assistance of a pressure washer.
When should you transplant trees and shrubs?
The ideal times to transplant trees and shrubs is, due to their less harsh weather, are in late winter, early spring, and fall.
How do you remove shrubs and small trees?
Removing trees and shrubs is intensive work, and it's important to know your limits and when to call a professional. If you wish to remove smaller shrubs manually, start by cutting away the branches, leaving just enough to use as a grip or point of leverage later. Next, use a sharp shovel to loosen the soil and dig up the roots. Once the roots have become loose, twist, pull and remove the plant from its place, and dispose of it as you would other lawn waste.
What is the difference between a tree and a shrub?
Trees are larger than shrubs, often in excess of 20 feet tall according to the National Parks Service. Meanwhile, shrubs are smaller, tree-like, woody plants with numerous, densely packed branches that extend out from the base of the plant.
Can you plant trees and shrubs in the fall?
Yes, fall is an excellent time to plant trees and shrubs for a variety of reasons. The soil is often warmer than it is during spring, while the air is cooler. These conditions allow for newly planted trees and shrubs to establish their roots before winter freezing sets in.