Tree & Shrub Maintenance is Important Too!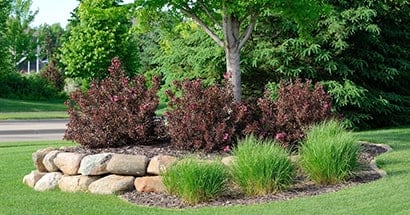 Barefoot Lawn Care has certified plant professionals that know how to treat these trees and shrubs according to their specific needs. Our program will provide essential nutrients to keep your trees and shrubs healthy and beautiful. Many companies will only offer nutrient, insect and disease management while our program includes those services but also includes weed control in your landscape areas. Our trained horticulture specialists will evaluate your plants for active pests during each visit and will treat affected plants to prevent further damage.
We highly recommend a plant soil test as it will provide key information about the soil where your plants and trees are growing.
We offer other beneficial services too such as:
Sedge Control (Yellow and Purple Nutsedge, Green Kyllinga)
Bagworm spraying
Pruning
Deep-Root Feeding
Mulch/Pine Straw
Trimming and Pruning
There are many reasons to trim and prune your plants. If the crown of a tree is too crowded, it is in more danger of damage during storms. Young plants often need to be pruned so as to allow them to grow with a strong, stable foundation. Dead limbs often need to be removed, as well, especially if they overhang a house, driveway or an area children play.
Environmentally Conscious
Barefoot Lawn Care only uses the highest quality treatments and fertilizers that will be safe for you, your family, your customers and the environment.