Compost-Based Top Dressing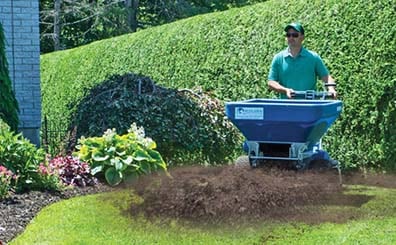 Healthy soil is the foundation for a healthy lawn, but keeping soil healthy is more of a challenge than ever. That's where we come in. As soil is a non-renewable resource, it's essential to get it right. The preservation of healthy soil is imperative for healthy turf, effective plant growth, and sustainable biodiversity. One way to ensure healthy soil is with compost top dressing, which is a thin layer of compost applied to your lawn. This helps improve the soil without suffocating your grass. The process of spreading ¼" of rich, organic-certified compost evenly over your lawn will improve the soil profile and give your lawn a renewed look.
Top dressing your lawn with compost is a practical, cost-effective, and sustainable way to rebuild it. Made up of only organic materials and plant-essential nutrients, compost top dressing provides food that essential lawn bacteria and fungi need (which synthetic fertilizers alone can't).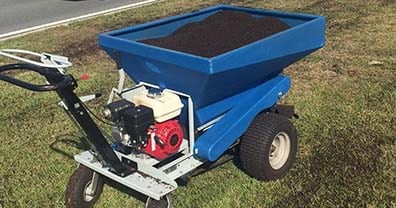 Why Should I Top Dress My Lawn With Compost?
When added to soil, compost helps improve soil structure; sandy soils will hold water better while clay soils will drain faster. Compost also promotes a biologically healthy soil by providing food for earthworms, soil insects, and beneficial microorganisms. Doing this for 3-4 years will help build your soil profile to the desired amount of 3-5% Compost.
Benefits of Soil Organic Matter in Top Dressing
How soil aggregates, or how its particles bind together, plays a big part in how healthy and structurally good it is. Compacted layers of soil, exceeding 300 PSI (pounds per square inch), will even restrict root growth.
A well-aggregated soil has a range of pore sizes (roots need 01+ mm pore space to properly grow), gained from soil organic matter like microorganisms, earthworms, insects and more. Organic matter is less dense than soil, ensuring more space for air and water storage, and is provided and nurtured through our compost top dressing.
More Benefits of Adding Organic Matter to your Lawn
Increases nutrient retention & release (CEC)
Buffers pH
Increases water infiltration & transmission
Increases carbon storage
Increases aeration
Reduces compaction
When is the Best Time to Top Dress My Lawn?
The best time to top dress an existing warm season lawn is while the turf is actively growing. For lawns in our coverage areas, that would be from mid-May through August. This will allow time for the turf to recover. Core aeration in combination with compost top dressing will increase the effectiveness of it too.
For fescue and cold season lawns, top dressing is most beneficial when done during your fall renovation. This not only helps improve your soil profile but also improves seed germination.
Top Dressing Services in Raleigh and Wilmington Areas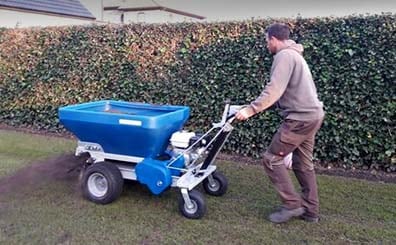 A healthy, vibrant lawn needs balance. Over or under-applying any one thing can upset this, resulting in soil that needs quick fixes of fertilizers, pesticides, and more. Rather than dealing with unnecessary costs for the foreseeable future, you can spend a little now and save in the long term.
Our expert staff make top dressing applications as low-hassle and beneficial as possible, for both your and your lawn's needs. Get started by requesting your free lawn analysis or give us a call at (919) 934-3554 for the Raleigh area or (910) 888-5296 for the Wilmington area.
Barefoot Lawn Care
Don't let your lawn get swamped every time it rains. Trust Barefoot Lawn Care for quality drainage management services and complete lawn care and maintenance. Based out of Smithfield, NC, we are proud to serve the surrounding areas including Raleigh, Cary, Apex, Fuquay Varina, Garner, Wake Forest, Knightdale, Wendell, Clayton, Smithfield, Selma, Pine Level, Princeton, Goldsboro, Four Oaks, Benson, Dunn, Coats, and Buies Creek.