Lawn Care & Weed Control Services in Johnston County, NC
Barefoot Lawn Care – Born Here in Johnston County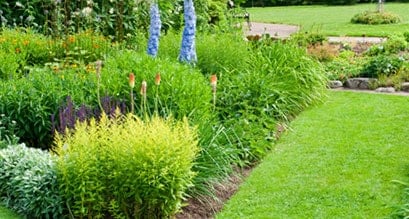 We may now be a well-known Triangle-area lawn care company, but we got our start right here in Johnston County. Barefoot Lawn Care is still based out of Smithfield right where we began in 1988. Despite growing to serve Raleigh, Cary, Wake Forest, Holly Springs and everywhere in between, we are proud to continue to serve the people of Johnston County.
Clayton, Selma, Smithfield and the surrounding area are still our home and we are happy to do both commercial and residential lawn care for our county. Here are some basic services we provide:
Custom landscape designs: Each landscape is unique, as is each customer. Combining these factors to create something our Johnston County clients love is our mission while designing.
Residential lawn and garden: There are some beautiful properties in our county. We want to keep adding to their number by helping you bring your yard to life with a garden and turf you can be proud of.
Commercial landscaping: Businesses are often judged at a glance. Customers who see a well-maintained property will assume you have an attention to detail and excellence in other areas, too.
Athletic fields: In Johnston County we love our sports, so little league fields take a beating as team after team runs on them in cleats. Barefoot Lawn Care will make sure the fields stay ready for gameday.
Snow and ice removal: In urban areas, you can often count on an army of city trucks to immediately plow your streets when it snows. Here in the country, we have to take matters into our own hands. We're happy to fill in where needed and dig you out of the worst blizzards.
Why Choose Barefoot Lawn Care?
Yes, we have been right here in Johnston County for 30 years, but that's not enough reason to choose us. Barefoot Lawn Care wants to earn your business like we've earned numerous others across our county and the wider area.
We do this by treating each customer like they are our main priority. Since we want to give you time to decide and us time to prove ourselves, we never ask for a contract, but just do pay as you go. This allows you to leave at any time with no penalties. That's how confident we are you'll be as satisfied as all our other customers in Johnston County the past three decades. Give us a call and let us prove it to you.