Weed Control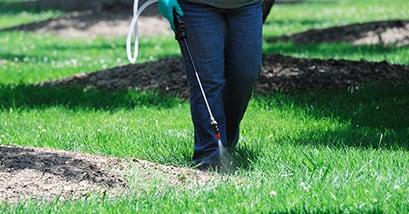 With any type of landscaping, whether it's residential or commercial, weeds are all but guaranteed to crop up if there aren't any weed control services to keep them under control. It's important to get rid of your weeds early before they can fully invade your lawn and reverse all the hard work you put into making it beautiful.
Types of Weeds We Treat
Successful weed control services specifically target the most common weeds in the Raleigh and Wilmington areas. Our team is made up of North Carolina horticulture experts no matter the type of weeds you're seeing in your lawn, you can bet our team knows how to eradicate them.
The most common weeds we see and treat in the Triangle and Wilmington include:
Bluegrass (poa annua)
Crabgrass
Chickweed
Foxtail
Hairy bittercress
Dandelions
Henbit
Wild Violet
Clover
Goosegrass
The method we use to control and eradicate these weeds will depend on the amount of time they have been growing and spreading. Before beginning your weed control treatments, your technician will carefully evaluate your weeds to formulate the best lawn care plan possible.
Weed Control Products We Use
We are always keeping our eyes on what is next in the landscaping and lawn maintenance arena. Products like fertilizers, mulch, and more have changed in many ways over the years and at Barefoot Lawn Care we are always committed to providing the most top-of-the-line, and quality product for our customers.
When it comes to weed control and weed removal, we are very clear about our process, what we are using, and how to keep all members of the family from being affected by our applications, and to ensure the end goal is met with minimal damage to the local ecosystem and water supply.
Weed Control FAQs
How does weed control work?
Weed control treatments vary depending on the type of weeds in your lawn, and on how long they have been growing. Pre-emergent weed control applications are used to prevent the growth of new weeds, while post-emergent weed control applications are used to eliminate weeds that have already taken root and grown in your lawn. Weed control products inhibit the growth of weeds by preventing photosynthesis and root formation from taking place.
How much does it cost for weed control?
The cost of weed control services varies based on a number of factors including the size of your lawn, the time of year (spring, summer, year-round, etc.), the type of treatment needed, and more. To find out how much it will cost for our team to treat your lawn, contact us today for a free lawn analysis.
What is preventative weed control?
Preventative weed control refers to the application of pre-emergent weed control treatments to your lawn to prevent new weed growth. Pre-emergent weed control products, when properly applied, create a barrier on the ground surface that hampers the growth of weeds once their roots come into contact. Preventative weed control is most effective when applied in the spring, before new seeds have had the chance to germinate and take root.
Why is weed control important?
Weed control plays an important role in facilitating a healthy, beautiful lawn, as weeds compete with their surrounding plants for light, water, nutrients, and other resources. This competition can hamper the growth of grasses and other desirable plants.
How long does it take for weed control to work?
The time it takes for weed control to work can vary depending on the type of weeds in question. Weed control treatments can kill many common weeds in as little as one to two weeks, while other weeds can require multiple treatments, and therefore take months before being fully eliminated.
When is the best time to apply weed control?
Spring and fall are the optimal times of year to apply weed control treatments, though they can be used year-round. Preventative weed control treatments in the spring stop weeds in their tracks before they've had the chance to take root. Applying weed control treatments in the fall, on the other hand, attacks weeds when they are in their most vulnerable state, focusing on storing energy in their roots rather than on top-growth.
Trust Us For Weed Control Services in Raleigh and Wilmington
Barefoot Lawn Care offers a variety of weed control packages, whether you need services in the spring, summer, or annually, we can recommend the best services to help rid the weeds from your lawn. Get started by requesting your free lawn analysis or by giving us a call at (919) 934-3554 for service in the Raleigh area or (910) 888-5296 for service in the Wilmington area.