Snow & Ice Removal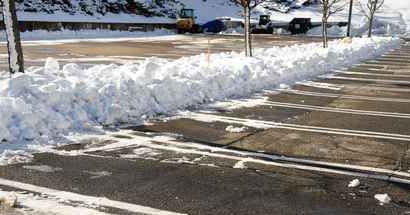 Don't let a cold snap freeze up your Raleigh business. Beat the cold with snow and ice removal services from Barefoot Lawn Care! We provide snow and ice removal services to protect our commercial clients when winter weather threatens the safety of their employees and customers.
Our Raleigh Snow & Ice Removal Team
When a snow storm strikes, Barefoot Lawn Care is the North Carolina snow removal company to trust. Snow and ice can't stand up to our experienced team equipped with serious snow removal equipment, including:
Fleet of 4×4 trucks and duallies capable of maneuvering through the ice and snow to be there when you need us most, including with a dually truck with a 10 ton gooseneck trailer.
Tractors/loaders and box-blades or bobcat loaders to push snow from parking lots and roadways.
Each truck is equipped with plows, spreaders and ice melt.
Our team of laborers will shovel snow from walkways and apply ice melt in no time.
The Barefoot team uses safe, fast-acting and effective products on concrete walkways, driveways and asphalt parking lots to get rid of ice and keep it from forming. Our ice melt that is safe for use on plants and grass, as well as outdoor hard surfaces.
Snow and Ice Removal FAQs
For the colder months, it's best to have a plan for winter weather—especially in North Carolina. At Barefoot Lawn Care, we know how critical proper snow management is for the day-to-day of commercial businesses. Read on to learn more about snow and ice removal and how we can help this winter season.
Does North Carolina DOT plow snow in commercial parking lots?
No. The NCDOT is responsible for clearing snow and ice from interstates and four-lane primary routes. In most cases, snow and ice removal in commercial parking lots is the responsibility of the property or business owner.
What month does North Carolina see the most snow?
North Carolina usually receives the most snow in January, although snow can fall anytime between December to March.
Is pre-salting a road worth it?
Pre-salting a road or driveway creates a layer of separation between the ground and any snow that falls. Snow and ice can be difficult to remove once frozen, so pre-salting can help to lessen your workload.
Why is cleaning snow and ice important?
Removing snow and ice prevents accidents, protects your landscaping efforts and makes traveling easier. You'll be able to safely travel without the risk of an accident or injury.
Should I call Barefoot Lawn Care for snow and ice removal?
Yes! Hiring our professional snow and ice removal service is the best option during the winter season. Our team has the appropriate equipment to safely and correctly get the job done, saving you time and energy. Barefoot Lawn Care is fully insured to cover snow removal services and are trusted professionals in our community.
Can I get pre-treatment services from Barefoot Lawn Care?
Yes! Contact us to learn more about our pre-treatment services and how to schedule them before snow starts to fall.
NC Snow Management Services Available 24/7
Our team can be easily reached during winter weather events, and will work round the clock to help keep your business open and safe. We are available 24 hours a day, every day of the week to give you the help you need during these events. Contact us today for fast, professional snow and ice removal!
Operating out of Smithfield, NC, Barefoot Lawn Care serves Raleigh, Cary, Apex, Fuquay Varina, Garner, Wake Forest, Knightdale, Wendell, Clayton, Smithfield, Selma, Pine Level, Princeton, Goldsboro, Four Oaks, Benson, Dunn, Coats, & Buies Creek, NC.