Fertilizer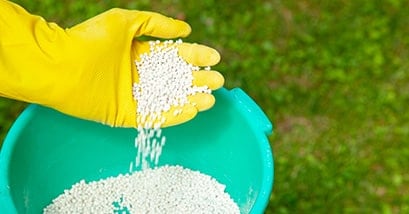 At Barefoot Lawn Care, we are committed to creating and maintaining the healthiest lawns possible for every single one of our customers. While there will always going to be ongoing lawn maintenance and treatments to supplement the initial success of a lawn program, the real star of the show is fertilizer.
We all know that it can help plants grow bigger, taller, and stronger. But what you may not have known is that an ongoing fertilizer treatment (or even a one-time treatment) for your lawn can have long-lasting benefits beyond the month post-treatment.
When should my lawn be fertilized?
This is a trick question–it all depends on the kind of grass you have in your yard. Believe it or not, there are different growing seasons for different kinds of grasses, so there is no "one-size-fits-all" fertilizer program. As such, at Barefoot Lawn Care, we work hard to create unique programs based entirely on your lawn, your needs, and your preferences for products, processes and final products.
In general, once we identify what kind of grass is in your yard, we will fertilize your lawn at the beginning of the grass's growing season. This helps with overall root growth and health. So, if you have a warm-season grass, we will come to your home to fertilize from March through August to help grow a strong lawn that stays green through the summer. If you have cool-season grasses, there will be two applications of fertilizer: the first in September-November and then the second in February or March as the last strength-boost before the grass's growing season slows down.
Call us today for all of your lawn fertilizing needs
If you are looking for a consistently healthy and green lawn this year, don't hesitate to call the experts at Barefoot Lawn Care to get your personalized lawn care plan started. No task is too much for us, as we can handle any job you need completed. We service the greater Triangle area, working in Apex, Cary, Garner, Clayton, Fuquay-Varina, Holly Springs, Johnston County, Wake County, Wake Forest and the surrounding areas. Give us a call to discuss fertilizer for your residential or commercial property at (919) 934-3554.