Yard Drainage Solutions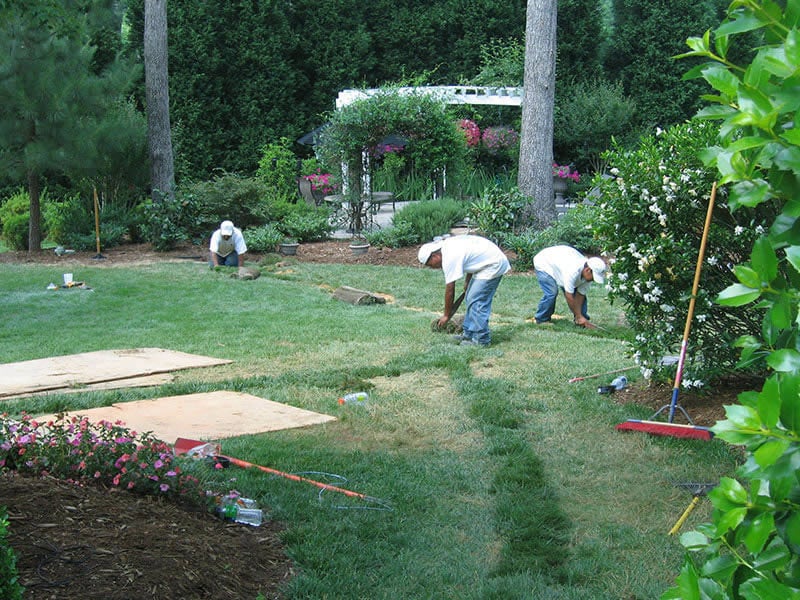 Do you have a wet, mushy yard or standing water on your property, especially after it rains? These issues could be a sign of poor lawn drainage, which can be especially problematic due to the frequent rain and storms that Raleigh and the broader North Carolina area experience. (Residents of the Piedmont area receive an average of 45 inches of precipitation per year — that's six more inches than the national average.)
When you have poor lawn drainage and/or standing water in your lawn, it can take days for it to dry up completely. Aside from making your lawn unenjoyable and a hassle to walk on, poor lawn drainage can attract pests, be unhealthy for your plants, and potentially cause damage to your house.
Proper lawn drainage allows runoff or excess ground water to flow away from your home and off of your property, avoiding a range of problems from standing water that may attract mosquitos, to muddy lawns spots, erosion, and structural damage of your home.
Depending on the grade of your property, the size of your yard, and the scope of your drainage problem – the issue can seem daunting. That's where we come in.
Our Lawn Drainage Solutions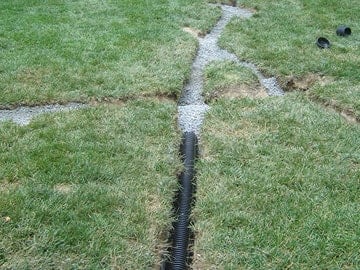 With over two decades of experience, Barefoot Lawn Care's team of Raleigh, NC experts can help! We have the professional know-how and equipment to handle any lawn drainage problem. Our routine process for assessing and solving your lawn drainage issues is as follows:
Evaluate your property's drainage patterns.
Identify problem areas that don't allow proper drainage.
Design a solution suited to the specific needs of your yard.
Create a path for excess water to flow using landscaping techniques.
Install your custom drain system.
A custom drain system gathers rain water, runoff and excess water, quickly draining it away and leaving you with a lawn that is Barefoot ready.
Frequently Asked Questions
How is a lawn graded for drainage?
Lawn grading is the practice of making sure that your lawn has an overall slope for proper surface drainage. Specialized equipment is used to create the perfect grade and allow wet areas of your yard to drain off your property or into your drainage system.
How do I improve my lawn drainage?
The most effective way to improve poor lawn drainage is to install a lawn drainage system. A lawn drainage system can include a French drain (a trench filled with coarse stone or gravel) and/or the installation of lawn drainage pipes, which create a path for excess water to follow.
How is drainage installed in a lawn?
A French Drain is the simplest type of drain. French drainage is nothing more than a trench filled with coarse stone or gravel that creates a path for excess water to flow. Corrugated and slotted lawn drainage pipes are buried in the trench to absorb runoff water and transport it off your property or disperse the surplus into the ground. The drain can then be covered with lawn sod and/or vegetation to make it look aesthetically pleasing. Channel drains and catch basins are solid pipes that transport water, while gutter drainage collects surface water and directs it underground to the lowest point of your property.
Does aerating a lawn help drainage?
Depending on the nature of your drainage problem and the level of water accumulating in your yard, aeration (the perforation of your lawn's soil with small holes) can help drainage. However, more serious drainage problems require more robust drainage solutions such as installing a lawn drainage system.
Can I lay my own drainage pipes/install a drainage system in my lawn?
Though you can install a drainage system in your lawn on your own, we recommend that you have a team of professional lawn drainage experts assess your lawn drainage patterns, identify specific drainage issues, and install a drain system that adequately addresses any drainage problems. Professional installation ensures that your lawn drainage issues will be solved promptly and efficiently.
How much do lawn drainage systems and services usually cost?
Lawn drainage system costs depend on the size of your yard, the scope of the lawn drainage issue, and other factors. For a free price quote of our lawn maintenance services, call a Barefoot Lawn Care team member today.
Barefoot Lawn Care
Don't let your lawn get swamped every time it rains. Trust Barefoot Lawn Care for quality drainage management services and complete lawn care and maintenance. Based out of Smithfield, NC, we are proud to serve the surrounding areas including Raleigh, Cary, Apex, Fuquay-Varina, Garner, Wake Forest, Knightdale, Wendell, Clayton, Smithfield, Selma, Pine Level, Princeton, Goldsboro, Four Oaks, Benson, Dunn, Coats, and Buies Creek.