Sport Turf Maintenance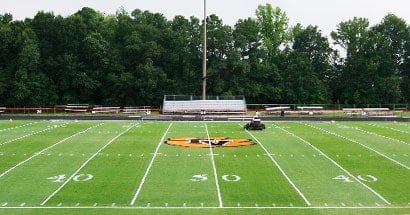 If you want North Carolina turf that is tough, healthy and green you need Barefoot Lawn Care. Since 1988, we have maintained great-looking sports turf that stands up to getting walked, run and played on.
We provide a variety of specialty turf maintenance services that include seeding, sodding, turf sprigging, laser grading and field drainage management.
Turf Maintenance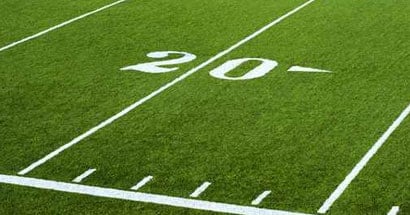 Not only can we install your sports turf, we also offer preventive turf care services to keep it healthy. Barefoot Lawn Care will use our turf experience to to oversee and handle the ongoing maintenance needed to remove pests, treat the turf and keep it staying strong. Services include:
Weed control to stop the growth of crabgrass and other common North Carolina turfgrass weeds.
Core aeration to get air into compacted soil so grass roots can breathe.
Dethatching to loosen up and remove dirt, dead grass and other material so turf can the get nutrients it needs.
Insecticide & fungicide treatments to protect your sports turf from harmful pests.
Fertilizer & nutrient applications for the greenest turf.
Sports Turf Portfolio
Our clients include municipalities, schools and community organizations. The turf team of Barefoot Lawn Care also provides athletic field maintenance services to local high schools in the area. Some of our Raleigh-area clients include:
Cleveland Middle School: Turf Field Maintenance
GCAA: Travel Soccer Fields (field renovation and ongoing maintenance)
Cleveland High School: Football Field Renovation and ongoing Maintenance of all fields
East Cary Middle School
Chesterbrook Academy Schools
Clayton High School
Corinth Holder High School
To see examples of our work, take a look at our Raleigh sports turf services gallery. Operating out of Smithfield, NC, Barefoot Lawn Care provides Raleigh, Cary and surrounding areas with beautiful residential and commercial landscaping services. Call us today for a free quote on our NC sports turf services in the Triangle, including Apex, Fuquay Varina, Garner, Wake Forest, Knightdale, Wendell, Clayton, Smithfield, Selma, Pine Level, Princeton, Goldsboro, Four Oaks, Benson, Dunn, Coats, & Buies Creek, NC.