Landscaping Services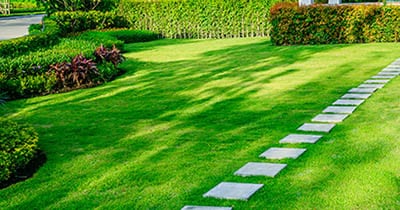 Barefoot Lawn Care, provides complete landscape design, installation, and maintenance. Since 1988, we have helped our clients in and around Raleigh and the North Carolina Triangle get stunning results with our landscaping services. We pair our comprehensive landscape design and installation with personal attention to make sure you get exactly the look, functionality and yard layout you want.
At Barefoot Lawn Care, we respect you and your time. We always arrive on time — and work quickly to finish on time, too. We listen to what you want and need in your Raleigh landscaping design and make sure we meet those requirements. Take a look at our past work in our landscaping photo galleries.
Our North Carolina Yard Design Services
Optimizing the space and creating a space that flows and feels natural
Creating areas designed for relaxing, cooking, eating or simply enjoying the outdoors
Providing your with precise, computer-generated designs and renderings that are to scale
Reviewing mockups and pictures of what the new landscape or yard will look like with the client
Constructing hardscapes such as walkways and patios
Building retaining walls, beds and planters
Installing water features
Installing outdoor and landscape lighting
Selecting and placing plants that look beautiful and are easy to care for
Home outdoor night lights and night time outdoor lighting for both indoor decks and outside landscaping.
We Guarantee Our Planting Materials & Methods
Correct planting methods and timing are essential to guarantee survival of new trees and shrubs. Seasonal planting (planting at the right time) will give plant life the best chance at growing well and establishing itself. Our NC horticulturist will provide expertise pertaining to plant characteristics and function. It is necessary to be aware of a plants adaptability to your particular soil and environmental conditions in Raleigh and beyond.
Barefoot Lawn Care, Inc. guarantees all installed plant material that we purchase for a period of one year when planted according to our recommendations and a maintenance agreement for one year agreed upon and provided by Barefoot Lawn Care.
A new landscape will create an outdoor space that is relaxing and adds value to your Raleigh, NC home. Call today to discuss how we can help you get the yard you've always wanted. Barefoot Lawn Care is based out of Smithfield, NC, and is proud to serve the surrounding areas, including Raleigh, Cary, Apex, Fuquay Varina, Garner, Wake Forest, Knightdale, Wendell, Clayton, Smithfield, Selma, Pine Level, Princeton, Goldsboro, Four Oaks, Benson, Dunn, Coats and Buies Creek, NC.