Irrigation Services
Irrigation plays a central role in maintaining a healthy lawn, garden and outdoor home environment. Our team of certified professionals will help keep your irrigation system running smoothly and efficiently for less stress and lower utility costs each year. At Barefoot Lawn Care, we offer backflow testing and repair services for commercial and residential properties in Raleigh, Clayton, Wilmington and other areas of North Carolina. Explore our irrigation services below.
Barefoot Lawn Care Irrigation Services
Once the winter months are passed, it's time to get your irrigation system started up again, from checking the valves and breakers to making any necessary repairs. Wait until after the last freeze, usually in early- to mid-April in NC, to turn on your irrigation system. Talk with our team if you have questions and to set up an appointment.
Spring Irrigation Start Up
Prevent damage and prepare for the cold by winterizing your irrigation system. This process gets rid of water from above ground systems components, preventing freezing and harm to the sprinkler heads, valves, pipes and pumps.
Winterizations
Our certified professionals at Barefoot Lawn Care can handle your backflow testing needs. Cities in North Carolina require both commercial and residential irrigation backflows to have a passing test report submitted by certified technicians to ensure compliance with local ordinance.
Backflow Testing
Sometimes all your irrigation system needs to run properly is a replacement part or even adjustment. From quick fixes to comprehensive troubleshooting, our team will get your sprinklers up and running in no time. We also can provide full irrigation replacements if your system is structurally damaged or outdated.
Part Replacements
Repairing leaks and locating the source calls for help from the professionals. Whether mild or more persistent, above or below ground, leaks left unchecked can cause serious damage to your lawn, system and even home. Contact us today to learn more about our leak repair irrigation services.
Leak Repairs
Troubleshooting Electrical Problems
If you're having difficulties with the operation of your irrigation system, it could be electrical. We'll troubleshoot, identify and repair any electrical issues with your system to get it working again quickly; common electrical issues include cut wires, faulty valves and an inactive controller.
System Upgrades
Are you looking to upgrade your old irrigation system to something new, with smart technology or more comprehensive coverage? Upgraded irrigation systems can save you money with lower water and electricity usage, while benefiting your plants through increased efficiency. Talk to our team today to get started!
Programming Controllers
No matter which type of irrigation controller you have, we can help with programming, reprogramming and troubleshooting to get your system working properly. Common signs of a malfunctioning sprinkler controller include a blank display, unresponsiveness or inactivity of the system, irregular watering (off schedule) and readout of error messages.
FAQs About Irrigation
How Often Should You Irrigate Your Lawn?
While most people think their lawn needs water nearly every day, you should aim to irrigate your lawn two to three times per week, depending on your local ordinances and water restrictions guidelines. Overwatering can stunt root growth and create an ideal environment for weeds and pests.
How Much Water Is Needed for Lawn Irrigation?
Typically, most lawns need 1-to-1.5 inches of water per week, including rainfall. The exact amount is dependent on your lawn's specifics: the soil and grass type, the climate, how much rain it's getting and the age of your lawn. Our irrigation service programs, including rain sensors, can ensure your system works as intended and maintains the needed amount of water for your lawn.
When Is the Best Time to Irrigate Your Lawn?
The best time is between 4 and 6 a.m., but any time before 10 a.m. can work. This allows the water to seep thoroughly into the soil instead of evaporating. Another good time range for irrigation is the early afternoon (between 1 and 3 p.m.). Any later and the lawn can stay wet overnight and be more prone to disease.
How Deep Are Lawn Irrigation Pipes?
Irrigation pipes are generally placed at a depth of 12-15 inches, per the NC irrigation code. This ensures that pipes are less likely to freeze or get damaged by lawn maintenance equipment. If there's a greater potential for frozen pipes, they're often placed at the deeper end of this range. If you suspect the possibility of underground leaks in your irrigation system, we can check for and repair them.
Benefits of Irrigation Services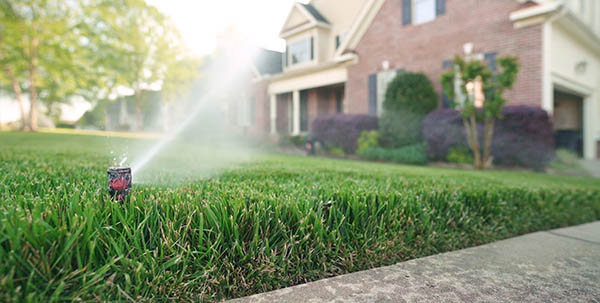 A properly maintained irrigation system will provide you with a green healthy lawn and landscape throughout the year. This also allows you to operate your system very efficiently and effectively, providing you with both water and cost savings. It is easier to maintain a system year after year than to pay for expensive repairs when a system hasn't been maintained for a few years.
During our irrigation system maintenance checks, we will try and identify any problems for you, adjust any heads that need it. Adjust the irrigation controller for run times and days, check your rain sensor to see if its operating properly.
One of our irrigation specialists will be happy to meet with you to discuss your system and any repairs that are needed. Since our work is concentrated to service and repairs, a diagnostic fee will be charged for appointments. To determine any problems associated with your irrigation system, it will require us to run through the system, possibly adjust, dig and perform diagnostics so we can best offer you a solution to allow your system to not only perform well but efficiently too.