Irrigation Services
At Barefoot Lawn Care, we can provide your home or commercial sprinkler system with complete maintenance and repair services:
Irrigation spring startup and winterizations
Backflow Testing
Installation of rain sensors or controllers
Programing controllers for proper run times and operating days
Replacement of broken heads or nozzles
Replacement of non-functioning valves
Repairing any underground leaks in the system
Troubleshooting any electrical problems
Repairing drip lines
Upgrading older systems with new technology – i.e. smart controllers
Irrigation service programs – this includes the spring startup, winterization and maintenance checks throughout the operating year.
We use all brands of irrigation products – Hunter, Rainbird and Toro
How Often Should You Irrigate Your Lawn?
While most people think their lawn needs water nearly every day, you should aim to irrigate your lawn two to three times per week, depending on your local ordinances and water restrictions guidelines. Overwatering can stunt root growth and create an ideal environment for weeds and pests.
How Much Water Is Needed for Lawn Irrigation?
Typically, most lawns need 1-to-1.5 inches of water per week, including rainfall. The exact amount is dependent on your lawn's specifics: the soil and grass type, the climate, how much rain it's getting and the age of your lawn. Our irrigation service programs, including rain sensors, can ensure your system works as intended and maintains the needed amount of water for your lawn.
When Is the Best Time To Irrigate Your Lawn?
The best time is between 4 and 6 a.m., but any time before 10 a.m. can work. This ensures the water can properly seep into the soil instead of evaporating. Another good time range is the early afternoon (between 1 and 3 p.m.). Any later and the lawn can stay wet overnight and be more prone to disease.
How Deep Are Lawn Irrigation Pipes?
Irrigation pipes are generally placed at a depth of 12-15 inches, per the NC irrigation code. This ensures that pipes are less likely to freeze or get damaged by lawn maintenance equipment. If there's a greater potential for frozen pipes, they're often placed at the deeper end of this range. If you suspect the possibility of underground leaks in your system, we can check for and repair them.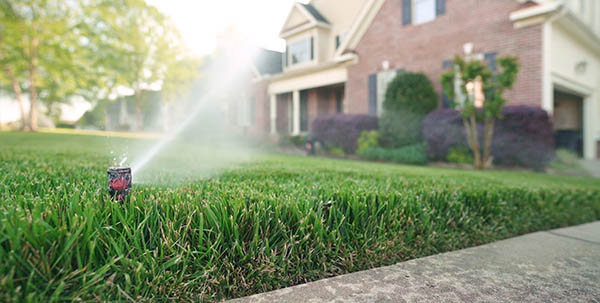 A properly maintained irrigation system will provide you with a green healthy lawn and landscape throughout the year. This also allows you to operate your system very efficiently and effectively, providing you with both water and cost savings. It is easier to maintain a system year after year than to pay for expensive repairs when a system hasn't been maintained for a few years.
During our irrigation system maintenance checks, we will try and identify any problems for you, adjust any heads that need it. Adjust the irrigation controller for run times and days, check your rain sensor to see if its operating properly.
One of our irrigation specialists will be happy to meet with you to discuss your system and any repairs that are needed. Since our work is concentrated to service and repairs, a diagnostic fee will be charged for appointments. To determine any problems associated with your irrigation system, it will require us to run through the system, possibly adjust, dig and perform diagnostics so we can best offer you a solution to allow your system to not only perform well but efficiently too.