Sod Installation in Raleigh & Wilmington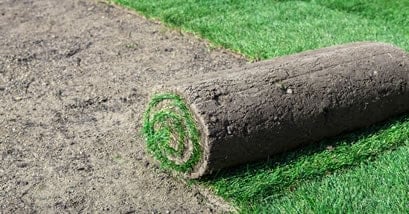 Installing Sod in the Triangle & Raleigh area for years
It can take some time to seed a lawn and bring it into a mature and healthy state. That lush, green, consistent look you want isn't born in a day. Although, with sod, it can be. Sometimes you don't have time to spend waiting. Installing sod is an alternative that can look and feel just like a naturally-grown lawn.
The sod installation process may seem simple, but to be done well, it should really be handled by professional landscapers. There are many steps involved that, if not done correctly, can make future problems likely.
A natural sod installation involves:
Soil evaluation
Preparing the soil by eliminating competing plants and seeds
Tamping down the dirt so sod will lay flat
Laying sod in tight rows that will grow together
Secondary maintenance to monitor the initial installation
The entire process relies on multiple variables, including soil, terrain, and grass sod type. Barefoot Lawn Care know how to customize a sod installation to fit all these elements into a seamless job.
After construction is done on a new home or renovation, often there are large dead areas where grass was trampled by workers or crushed by work materials. Barefoot Lawn Care can bring these unsightly areas quickly into a presentable state again.
Here in the Raleigh area, fescue is a very common grass for lawns. Fescue sod, while a good option, may be sensitive to extreme heat as it is a cool season grass. In areas without any shade, it may be better to look to Centipede, Zoysia or Bermuda warm season grasses. North Carolina is a transition zone so it's important to keep the temperature in mind. Trust Barefoot Lawn Care to understand and advise you on what sod to install on your property.
Barefoot Lawn Care: More than Just Commercial Landscaping
Visit our commercial landscaping photo gallery to see examples of our work. For a free price quote on our commercial landscaping and lawn maintenance services, call us today.
Don't let your lawn get swamped every time it rains. Trust Barefoot Lawn Care for quality sod installation, drainage management services and complete NC lawn care and maintenance. Based out of Smithfield, NC, we are proud to serve the surrounding areas, including Raleigh, Cary, Apex, Fuquay-Varina, Garner, Wake Forest, Knightdale, Wendell, Clayton, Smithfield, Selma, Pine Level, Princeton, Goldsboro, Four Oaks, Benson, Dunn, Coats, & Buies Creek, NC. Contact us today for a free quote on our sod installation services!