Golf Course Landscaping and Maintenance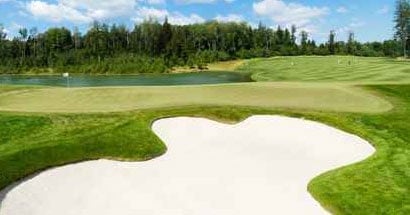 From collaboration with a designer to create the original golf course design, to construction and ongoing maintenance, Barefoot Lawn Care is the team of experts that North Carolina relies on for complete golf course landscaping services. For more than a decade, we have given local golf courses the green, rolling hills with the beauty and functionality that make the sport so enjoyable. Whether you're building a new hole, need to renovate a golf course or require ongoing golf course turf management, our golf course team can help!
At Barefoot Lawn Care, our first priority is making sure our clients get the best golf course work possible and are satisfied with the results. We simply provide the NC Triangle area with the quality golf course landscaping and maintenance services you need, when you need them. Visit our Golf Course Photo Gallery to see examples of our expert golf course construction and maintenance work!
Our North Carolina Golf Course Services
For new golf construction projects, Barefoot Lawn Care offers every service you'll need, including:
Collaborate with Golf Course Designer
Golf Course Designs & Renderings that Are to Scale
Erosion Control
Fine Grading
Bunker Restoration
Drainage Installation
Earth Shaping/Forming
Sodding/Seeding/Sprigging
We can also help existing golf courses upgrade their greens and get them looking better than ever. We offer golf course renovation and maintenance services, including.
Laser-leveling
Golf Course Greens Reconstruction
Bunker Renovation
Our Golf Course Construction Work Portfolio
Our firm has provided construction services for the golf facilities that NCSU, ECU and Elon College currently use for practice and training. Other clients we perform golf course work for include Benvenue Country Club, Twelve Oaks Golf Course, Governor's Club, Chapel Hill Country Club, Masonboro Country Club and many others in the states of North Carolina, Virginia and South Carolina.
For a free price quote on our golf course landscaping and maintenance services, call us today. Operating out of Smithfield, NC, Barefoot Lawn Care provides Raleigh, Cary, Apex, Wake Forest, and surrounding areas with beautiful residential and commercial landscaping services.