First Choice for Lawn Care in Carolina Beach, NC
Sitting between the Cape Fear River and the Atlantic Ocean, Carolina Beach offers some of the most beautiful views in North Carolina. At Barefoot Lawn Care, we work to ensure your lawn is as dazzling as Carolina Beach itself.
We pride ourselves on creating a lawn care plan tailor made for your property to bring out its natural beauty and keep it looking healthy and lush. For over 30 years, homeowners throughout North Carolina have trusted Barefoot Lawn Care to bring out the best in their lawn. Whether you need lawn care or tree and shrub maintenance, we're here to help you love your lawn.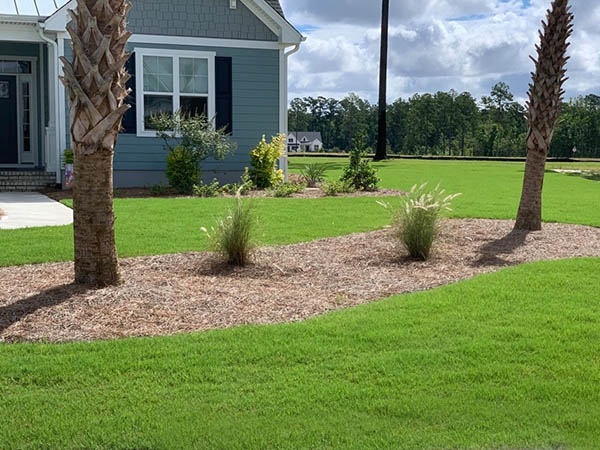 Residential Lawn Care Services
Our lawn care treatments are tailor-made for your lawn, and you'll never pay for services you don't need. That's why Carolina Beach homeowners rely on us for comprehensive lawn care treatments, including:
Commercial Lawn Care Services
Professional lawn care services provide one of the highest ROIs for commercial properties. If you own commercial property in Carolina Beach, we can take the stress out of maintaining your green spaces. We work with apartment complexes, HOAs, and other commercial properties to keep their communities beautiful with services like:
Landscaping Design & Construction
Weed Control
Turf Maintenance
Insecticide and Fungicide Treatments
Outdoor Lighting
Tree, Shrub, and Flower Maintenance
Keeping Lawns Beautiful in Carolina Beach
At Barefoot Lawn Care, your results are what we truly care about. Our goal is to get your lawn looking healthier than ever, and become your trusted provider for landscaping and lawn care services. To ensure your complete satisfaction, we promise the following with every project:
We leave your space clean and undisturbed
We will never charge you any hidden costs
Our customers can trust that we're focused on their safety and privacy
Friendly and courteous staff are always here to help
And much more!
To receive your free lawn care analysis or to learn more about our services, give us a call at (910) 888-5296. We are proud to offer industry-leading, quality landscaping services at competitive prices in Carolina Beach and nearby Wilmington, Hampstead, and Leland.