What is the Best Height to Cut Your Grass?
Grass cutting height isn't just a matter of preference, cutting your lawn to the right length is another factor that contributes to a healthy lawn and can even help inhibit weed growth.
Whether you have cool season grass like fescue, or warm season grass like Bermuda, St. Augustine, or centipede, here are the ideal grass heights all year round. (And no matter which grass type you have or how low you're cutting it, always keep your mower blade sharp!)
How Short Should I Cut My Grass?
For warm-season grasses, 2 – 2 ½ inches is the optimal grass height.
For fescue, aim for 3 inches during the fall and winter, and around 4 inches during the spring and summer. Leaving your fescue a little longer reduces stress on the turf and helps reduce weeds.
To avoid taking too much length off, don't mow more than ⅓ of the length of the grass blade at a time. Like pruning a tree, taking off too much at once can be detrimental to the health of your grass.
Wondering how to measure grass height? Simply put the end of a ruler or tape measure on the ground and measure to the tip of the blades.
Now that we've established a baseline, let's discuss ideal mowing heights for different grass types during different seasons.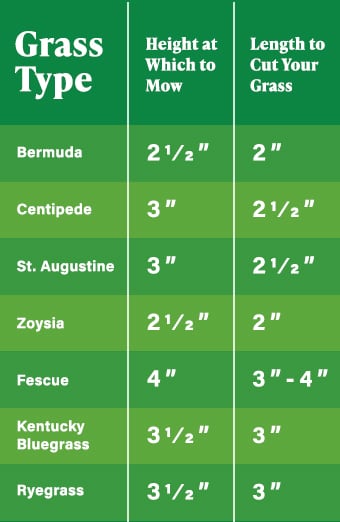 How Short Should You Cut Grass in the Spring?
In the spring, cut cool season grass to around 4 inches, and warm season grasses to around 2 inches.
Cutting your grass a little shorter this time of year will get rid of any winter damage and set your lawn up for a productive growing season.
How Short to Cut Grass in the Summer
You should allow your warm season grass to grow to a height of 2 to 2 ½ inches in the summer. Fescue can be mowed to as high as 4 inches. Keeping your grass taller during the hottest months of the year creates shade for the soil, reducing water loss.
How High to Cut Grass in the Fall
As the temperatures start to drop in the fall, your ideal mowing height is mid-length. Cool season grasses should be cut to 3 inches.
Increase your mowing height on warm season grasses, leaving them a little long to help protect the plant from winter damage, around 2 ½ – 3 inches. When spring rolls around, mow down to 2 inches.
Trust Your Lawn to Barefoot Lawn Care
You keep your lawn mowed to the correct height, we'll take care of the rest. With our no-contract residential lawn care services, including weed control and tree & shrub maintenance, you'll have a lawn your neighbors will envy. Get started by requesting your free lawn analysis!